7 Best Neighborhoods in West Palm Beach
Originally published on October 24, 2019. Updated February, 2023
What is the Best Neighborhood in West Palm Beach?
The best neighborhood in West Palm Beach is the one that is right for you and your family. If you are new to the area and want to discuss the opportunities available in each neighborhood as well as the factors that matter most to you, feel free to contact us today.
We'd love to show you around town and answer all your real estate questions so you can find the home of your dreams.
Some of the best neighborhoods in West Palm Beach are undoubtedly by the waterfront near downtown. These neighborhoods boast the best key factors in real estate such as access to amenities, historic districts with desirable architecture, good schools, minimal crime, and appreciating home values.
Learn a little bit more about the top neighborhoods in West Palm Beach as hand-picked from the team at LiveWPB.
Note: these are not listed in any particular order.
Flamingo Park is one of the most popular neighborhoods in West Palm Beach, and for good reason. Located just a few minutes away from the shopping and dining experiences in The Square, it is a short drive (or bike ride!) to downtown West Palm Beach and the waterfront, and has some of the most desirable Mission and Mediterranean Revival architecture in the city.
The median sales price in this area is just shy of $500,000 and a limited housing supply means homes sell fast. If you are considering Flamingo Park, you'll want to move fast on opportunities. If you're not finding exactly what you're looking for you may want to open up your search to nearby neighborhood, Sunshine Park. For experienced downtown West Palm Beach real estate help, contact the LiveWPB team.
View homes for sale in the Flamingo Park neighborhood in West Palm Beach, Florida
For those buyers interested in the higher end of the real estate market in West Palm Beach, you'll want to check out homes in El Cid. A personal favorite of LiveWPB realtor Tim Frater, El Cid is known for its homes that lie directly on the intracoastal that are built in Mediterranean Revival and Mission-style architecture.
El Cid lies just east of the above-mentioned Flamingo Park so it also boasts great proximity to schools, amenities, and more. The historic neighborhood is east of Dixie Highway (US 1) from Pershing Way to roughly Tuxedo Lane. The neighborhood is home to the Ann Norton Sculpture Gardens, the Villa Medina Historic Reservation, and Palm Beach Day Academy.
Because of the higher price points, the houses in this neighborhood tend to stay on the market a bit longer, 231 days on average. This does mean potential buyers can be a bit more selective with their timing but it does not mean that low ball offers will work. With a median sales price of $1.5MM and a 92% sales versus list price, expect to pay near asking price.
View homes for sale in El Cid in West Palm Beach, Florida
The Southend, AKA SOSO
The Southend neighborhood, also known as SOSO or South of Southern, is a highly desirable area of West Palm Beach that is best-known for its mix of architectural styles as well as prices. The specific neighborhood runs from Southern Boulevard south to the Lake Worth Spillway and east of US-1 to the intracoastal.
As you can imagine, the closer you get to the waterfront the more expensive the homes, so it is not unusual to see instracoastal waterfront mansions nearing $10M. However, traveling just a block or a few blocks west means more reasonably priced homes can be found. This is is why the median sale price in the neighborhood is just north of $500,000.
Homes in the Southend sell relatively quick at just 70 days on the market, and this is because this neighborhood is popular with Baby Boomers and young families alike due to the quiet nature of the surroundings as well as access to great schools and amenities.
View homes for sale in the Southend
If historic charm, Mediterranean architecture, and proximity to the waterfront are appealing to you, Prospect Park should be on your list of neighborhoods to check out. Located just south of El Cid, this historic neighborhood boasts large lot sizes, big houses, and a relatively low supply of homes.
Because of its location and the types of homes in Prospect Park, the median sales price is about $940,000. Homes don't often come up for sale in this area, so buyers should consider moving quick if they find a forever home in this desirable neck of the woods.
View homes for sale in Prospect Park
A somewhat unknown gem alongside the more recognized historic neighborhoods in West Palm Beach, Lands of the President is a gated golf community that is located right in the heart of West Palm Beach.
Lands of the President is a golf-lovers paradise, with well-manicured greens, a new golf resort, and year-round perfect weather. The community is also the future home of Banyan Cay Resort and Golf Club, a brand new construction community within Lands of the President with an 18-hole Jack Nicklaus Signature golf course and multiple living options.
There are a variety of residential options in the Lands of the President. From high rise condos to single family, to ground level townhomes. Banyan Cay adds to this mix with homes forecasted to be upwards of $1M.
View homes for sale in Lands of the President
Want the charm of the historical neighborhood but not the proximity to the hustle and bustle of downtown? The Northwood neighborhood, which sits on the northern boundaries of West Palm Beach, was built around the 1920's just like Flamingo Park and El Cid, and shares similar architecture.
As it borders the intracoastal to the east, it is not uncommon to see homes priced around $3M. However, the median sales price in the Northwood area is closer to $450,000, with median days on the market just under 100 days, and a sales versus list price of 93%.
The Northwood town center is up-and-coming with its fair share of trendy dining hubs, art galleries, and community events. If there is one drawback to this neighborhood, however, it's that the adjacent neighborhoods don't boast the same high end homes and have not completely caught up with the resurgence of Northwood.
View homes for sale in Northwood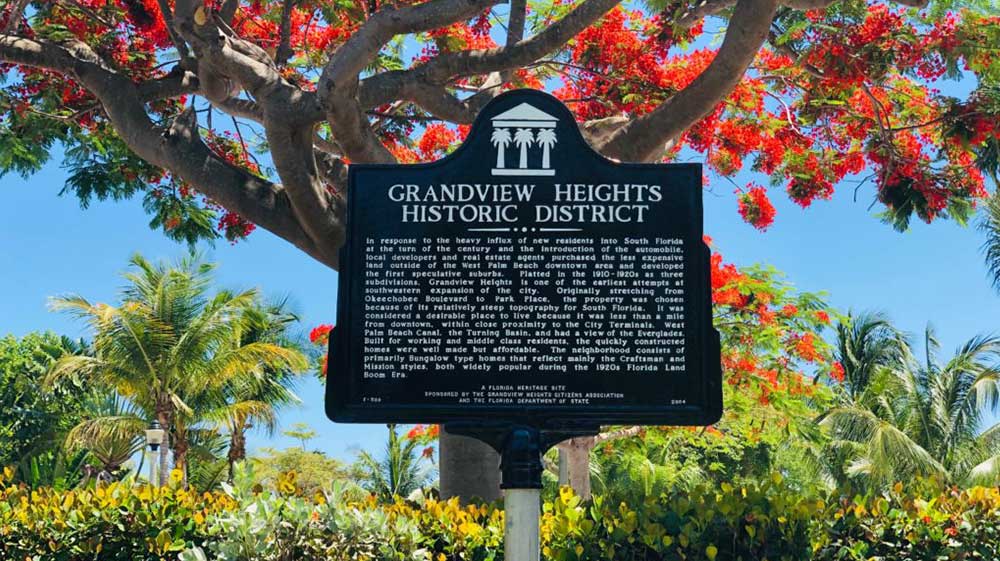 For our clients who want a little slice of everything the more desirable neighborhoods have to offer, this part of West Palm Beach is one of the city's oldest, and relatively unknown, neighborhoods. It borders the large Howard Park to the west, and sits just south of the Convention Center.
Grandview Heights was listed in the National Register of Historic Places in 1999 and has benefited from significant home value rise in the past decade. While the neighborhood is still up and coming, it is one of the more reasonably-priced on our list, with a median sales price of around $395,000.
Grandview Heights is close to Grandview Public Market, The Square, The Kravis Center, downtown, the waterfront, and has quick access to the highway. For buyers interested in this lovely pocket of town, we recommend acting fast as homes usually sell in two months or less from the time they are listed.
Homes for Sale in Grandview Heights
What is living in West Palm Beach like?
West Palm Beach is more than a great place to vacation. Learn about what makes West Palm Beach, Florida a great place to live.