4 Ways to Increase Your Property's Value
Purchasing a property is one of the most significant investments you'll make in your lifetime. This fact means that it's crucial to maintain your investment, especially if you'd like to increase its resale value.
Below are four different methods of raising your property's value.
Create an Attractive Landscape
Using various landscaping techniques is the quickest way to add to your home's value. An appealing, pretty garden attracts buyers. It makes your home look better from the outside, too.
Incorporate shrubs and plants that are indigenous to the area. By doing this, you won't only alleviate unnecessary watering, but it also ensures your garden is environmentally-friendly, a perk that many modern homeowners strive toward. On that note, we also recommend you plant seasonal flowers that add vibrant colors to your landscape.
Ensure you regularly prune and maintain your flora. You can install an automatic watering system to allow for proper irrigation. You can also add a simple yet eye-catching water feature to spruce up the look further. Both of these features will add value to your garden.
Add Modern Touches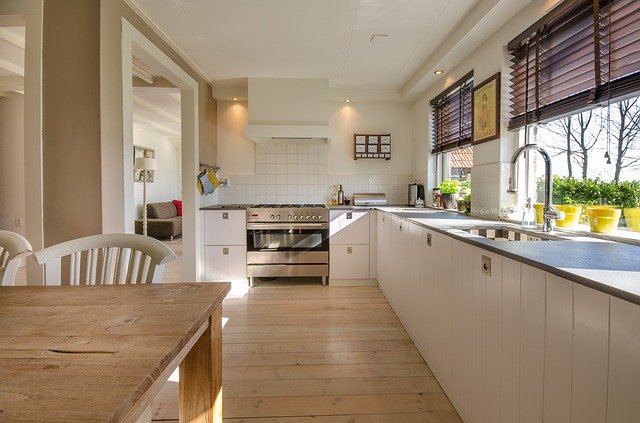 If you want your property to have a modern feel, you should consider replacing old closets and cupboards with fresh styles. This adjustment can drastically change the atmosphere of your home with a few simple tweaks.
Rooms that feature built-in carpets are a no-go, and you should replace these with tiles or parquet instead. Carpets carry dirt and odors easily, and cleaning them is no fun task. Tiles and parquet flooring aren't only easier to maintain, but they also provide a sleek look.
Most people believe that the kitchen is the primary selling point of a home, so ensure yours looks the way you envisioned. Get rid of the electric stove and install a gas alternative. Replace old counters with granite tops, as these are practical and much easier to maintain. Lastly, sufficient space is essential, so make sure you have enough room for storage.
Upgrade Your Security
Safety is paramount for any family home. Upgrading your security measures will not only benefit you right now, but it'll also be a significant selling point for prospective buyers.
Add features such as beams, security cameras, and perhaps an alarm. You can also sign up with a security company if you feel it's necessary for your area. Strategically placed security cameras can let you know what's going on when you're not around. Beams will light up at night if they detect any movement.
An alarm is useful for extended periods away from home – for example, family vacations. You can keep an eye on things when you're not there. There are many advantages of home alarm monitoring, and it's a great way to keep your family home safe without being in it.
We often overlook security measures, but they can add a lot of value to your property.
Go Green
We live in a society that's beginning to realize the importance of a "green" world. The green concept focuses on making more environmentally-friendly decisions within your household. These include things like energy saving, recycling, and reducing consumption.
Many buyers inquire about the amount of energy a home saves. The steep cost of electricity, as well as the demand for green alternatives, is rapidly increasing. Consider installing a solar-powered system for your property. Alternatively, you can find ways to reduce your current consumption by checking EnergyBot prices.
Install different trash cans for different types of recycling products, which could include glass, plastic, and paper items.
Conclusion
The value of a property is always changing. There are various ways to increase the amount your home is worth, and each one begins with you. The four tips outlined above should get you started on your journey. If you want to make significant changes, you should create a solid remodeling plan first. Your home will soon be looking great and worth a lot more on the housing market.