10 Best Beaches Near West Palm Beach
Originally published on May 19, 2019. Updated April, 2023
First, you should know there no beaches in West Palm Beach!
That's right, there are no actual, traditional beaches in West Palm Beach, Florida. The absolute closest beach to downtown West Palm beach, is just across the Intracoastal Waterway. You can go over one of the three main bridges to Palm Beach Island to enjoy the white sand and turquoise waters. However, in the city of West Palm Beach, there is no Atlantic Ocean shoreline.
However, within Palm Beach County, there are 30 public beaches to enjoy!
If you're looking to soak up the sun and spend your days lazing on sandy beaches, there's no better place than South Florida. With a subtropical climate and a relaxed culture, the Sunshine State is a popular year-round vacation spot, hosting over 18.6 million tourists each year. While some come for the world-class theme parks and buzzing nightlife, many are looking to relax and enjoy the beautiful beaches along the Atlantic coastline.
We've put together a list of the best beaches in the West Palm Beach area - in no particular order!
Phil Foster Park - Singer Island
John D. Macarthur Beach State Park – North Palm Beach
Gulfstream Park Beach - Delray Beach
Peanut Island Park - Singer Island
Oceanfront Park Beach - Boynton Beach
Palm Beach Island Beach - Palm Beach
Ocean Reef Park - Riviera Beach
Juno Beach - Juno
Carlin Park - Jupiter
Lake Worth Beach - Lake Worth
BONUS! Delray Beach - Delray
Phil Foster Park at Riviera Beach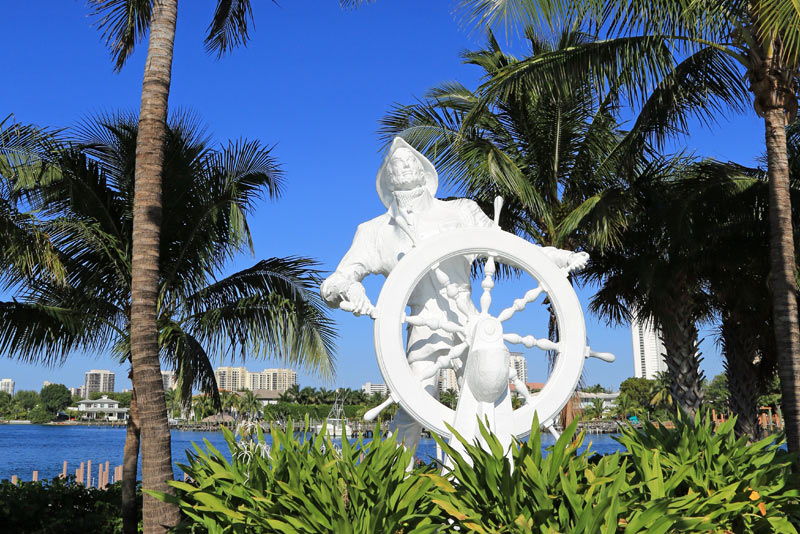 Phil Foster Park is positioned under the Blue Heron Bridge between Riviera Beach and Singer Island. The unique park is locally famous for snorkeling and diving. A swimmable distance away from the beach is an 800-foot-long man-made reef made by Palm Beach County. The beach is partially guarded, but has limited parking. The area is great for kids because the beach park is in the intracoastal so there are no waves and shallow waters. The park is the busiest during the hour before high-tide. Because of the distance from the Palm beach Inlet, the flow of the tide creates a period of crystal clear waters where you can view countless fish and other creatures. At the western end of the snorkeling trail are three 5-foot concrete hammerhead statues that were placed by artist Tom McDonald in 2015. Read a first-hand experience, Diving in Phil Foster Park.
John D. Macarthur Beach State Park in North Palm Beach
John D. Macarthur State Park is a pristine and undeveloped landscape situated approximately 10 miles north of downtown West Palm Beach. Nestled on an Atlantic Ocean barrier island, John D. MacArthur Beach State Park is the only state park in Palm Beach County.
The secluded parkland offers plenty in the way of activities including kayaking, fishing, swimming, stand up paddleboarding, and scuba diving. There is a John D. Macarthur beach is 1.6miles long and the perfect place to take a leisurely stroll or swim to escape the heat. There are no lifeguards on duty at the park beaches.
There are three nature trails to experience the diverse mix of flora and fauna that South Florida has to offer. The park is also a prime nesting site for sea turtles from early May through to late August. There are excellent amenities including two picnic pavilion areas with grills, playgrounds, toilets/restrooms, and even a visitor center. Parking is available onsite for $5 per vehicle.
Gulfstream Park Beach in Gulfstream
If crowds aren't your thing, you can always opt for a quiet oasis at Gulfstream Park Beach in Delray Beach. Hidden off the main road, A1A, this beautiful beachfront park has a large children's playground, BBQ grills, and picnic tables to enjoy a relaxing lunch or dinner. Free parking is available (although, we recommend getting there early as spaces are limited) and there are a few showers and bathrooms in the area. Lifeguards also patrol the beach, making it safe for families with young children.
Peanut Island near Riviera Beach
In the middle of the Lake Worth Lagoon, just west of the Palm Beach Inlet, sits a tiny island with a famous history. Peanut Island Park is a man-made island covered in dense vegetation and fringed by beautiful white-sand beaches with rocky inlets and areas of shallow water. The island and the surrounding waters are a hugely popular boating destination. You can find many boats along the sand bars on the weekends and holidays. It's a popular destination for snorkeling due to the abundance of marine life, including loggerhead turtles.
Entertainment isn't just limited to water activities. You'll also find a walking trail around the perimeter of the island, overnight camping areas, and the famous J.F Kennedy bunker. The bunker was used during the Cold War, although it's currently closed until further notice. Facilities are plentiful, including picnic pavilions, grills, and restrooms. Access to Peanut Island is only available by boat, with water taxis departing from Riviera Beach Marina.
Oceanfront Park Beach in Boynton Beach
Located south of the Boynton Beach Inlet, Oceanfront Park Beach is a hidden gem. The beach is wide and offers plenty of space for activities with designated surfing and skimboarding areas at the north and south ends. You can rent lounge chairs and umbrellas (starting at $7/hour) or relax in a cabana ($42/hour). There are food stands nearby and excellent facilities, including BBQ grills, picnic tables, and restrooms. Parking is also available on site, although it is expensive ($10) and guaranteed to fill up quickly. However, if you plan your visit after 4 PM, you can get free parking after the attendants have left for the day.
Palm Beach Island on Palm Beach
With a relaxing atmosphere, soft sand, and warm water– no trip to South Florida is complete without visiting the popular Palm Beach Island. A paradise for the rich and famous, Palm Beach Island lives up to its reputation as the third-wealthiest city in the US, with an array of luxurious resorts, mansions, and lavish restaurants.
The good news is you don't have to be driving a Rolls Royce to visit the public beach. The public beach is located just off South Ocean Drive, with parking available along the streets. However, parking is limited and absurdly expensive ($10/hour).
Ocean Reef Park in Riviera Beach
If you're keen on snorkeling, you won't want to miss Ocean Reef Park. The reef is situated close to the shoreline and has lifeguards on duty each day, allowing you to explore marine life without venturing out too far or needing a boat to get there.
Ocean Reef Park is a popular spot, especially on weekends. Free parking is available, although you will need to get there early as spaces fill up quickly. Restroom facilities are within walking distance from the beach, and outdoor showers are onsite. Ocean Reef Park also has a lovely boardwalk, picnic areas with grills and a shaded pavilion.
Juno Beach Park at Juno Beach
Have you got a furry friend who loves to get off the leash and enjoy a swim? Good news, Juno Beach Park is the best dog-friendly beach in South Florida. Along with welcoming pets, Juno Beach is popular for swimming, surfing, and fishing. Due to the vast beach, it doesn't get too crowded, and there are excellent facilities available including clean bathrooms, outdoor showers, and an abundance of free parking off Juno Ocean Walk. There is a 990-foot pier with a bait shop and snack bar; entrance is $1pp. If you're lucky you may catch an ice cream man pushing his cart down the beach.
Carlin Park in Jupiter, Florida
Lake Worth Beach Pier in Lake Worth
Lake Worth Beach Beach a top choice for families and casual beachgoers. While there's plenty of room on this stretch of sand, the beach can get quite busy during peak periods. Lake Worth Beach has plenty of amenities including restrooms and showers, situated at both the north and south end, a large children's playground, picnic pavilion, and BBQ grills.
Although, if you prefer not to cook, you can always dine at one of the oceanfront eateries in the Lake Worth Casino Building and Beach Complex. Ample metered parking is available off South Ocean Boulevard. Lake Worth Beach is also a popular spot for fishing with the Municipal Pier stretching out nearly 1000 feet  into the Atlantic.
Delray Beach in Delray Beach
Located in Palm Beach County, Delray Beach is a laid-back seaside town with charming boutiques, seafood eateries, and art galleries. Consistently named one of the top 10 beaches in Florida, its two-mile long sandy shoreline is a family favorite for sunbathing, swimming and relaxing on the many beachside cabanas. Metered parking is available at the Municipal Beach for $1.50/hour and parallel parking along Ocean Blvd.
Take a stroll along the raised boardwalk at the Wakodahatchee Wetland park to see birds, turtles, and alligators. When the sun goes down, head to Atlantic Avenue to experience the thriving nightlife or check out the galleries along the Pineapple Grove Arts District. If you're craving fresh local lobster, tuna carpaccio or fish tacos, head to City Oyster, which also does a great mimosa!