The Best Events in Downtown West Palm Beach
From concerts and charity events at the Myer Amphitheater, to dining and drinks on Clematis Street, to shopping and special events at the Square – the entertainment opportunities in downtown West Palm Beach events are never-ending!
It's fair to say that there are a few major events that help put downtown West Palm Beach on the map.  We put together a list of the most popular West Palm Beach events below.
To stay up to speed on all of the downtown West Palm Beach events you can trust our friends at the Downtown Development Authority, West Palm Beach Vistor's Center and the City of WPB events department.
SunFest is Florida's largest waterfront music and art festival. Held annually along the West Palm Beach Waterfront in downtown West Palm Beach at the end of April or first weekend in May, SunFest attracts tens of thousands of visitors for each of its 4-day run.  Three stages are featured, including the Meyer Amphitheater and two others constructed on Flagler Drive specifically for the event.  Internationally known artists perform every year.  SunFest also features painters, jewelers, sculptors, and other artists from around the country who showcase their work.  Whether you arrive by car, bus, taxi, or boat, SunFest is one of the premier annual, must-attend downtown West Palm Beach events.
West Palm Beach GreenMarket – The WPB Green Market runs seasonally during the winter months, from October thru mid-April.  As many as 100 vendors set up shop in the Waterfront, fountains, and along the first two blocks of Clematis Street. Offering locally grown produce, plants, spices, oils, pickles, and those now-famous cider donuts!  So, bring the kids and the family dog, enjoy the breezes coming off the waterfront, and "go green."
The WPB Green Market has won recent success as the "Best Farmers Market" in the U.S., as voted in a USA TODAY 10Best Readers' Choice poll.
Clematis by Night – Chill out South Florida style every Thursday evening in downtown West Palm Beach at the east end of Clematis Street.  Sponsored by the City, this free event caters to music-lovers, families, and a social network of canines and their owners.  As music spills out across the fountain and the main lawn, local artists exhibit their wares while folks sample from the beer and food trucks or any of the surrounding eateries.  Relax, have a beer, and enjoy.
Screen on the Green – The 2nd Friday of every month in Downtown West Palm Beach, the Waterfront is transformed into a theater under the stars. Pack a lawn chair, and some snacks and join in for family-friendly movies featuring both classic films and newer flicks from the spectacular vantage of the waterfront in downtown West Palm Beach.
Food trucks are often scheduled to appear. The movies and truck schedule can be found on the City of West Palm Beach's website.
Sunday on the Waterfront - A monthly concert series on the 3rd Sunday of the Month from 4pm to 7pm. You can bring a blanket, chair, and cooler although no outside alcohol is permitted. Food trucks are usually scheduled to be on site, you can find the list of musical performers and food trucks on the City's website.
Join your friends and family to enjoy the hottest acts around against West Palm Beach's spectacular waterfront. A perfect way to relax on the weekend and a fantastic way to unwind with friends and family on a Sunday afternoon.
Patrons should follow all CDC guidelines.
Holiday in Paradise - Celebrate the holidays in West Palm Beach style with Sandi, the 35-foot tall, 700-ton West Palm Beach holiday tree made entirely of sculpted sand.
The city's annual holiday festival includes entertainment pop-ups, sing-alongs with Sandi, a spectacular light show, and a synchronized dancing water show. An evening light show with synchronized music and lights happens every hour and is free.
4th On Flagler is West Palm Beach's annual 4th of July celebration.  The annual event takes place on the Waterfront Commons (100 North Clematis Street), Meyer Amphitheatre (105 Evernia Street) and Flagler Drive from Banyan Boulevard to Fern Street in the West Palm Beach famed Waterfront area.
Free and open to all ages, this patriotic event features live entertainment on multiple stages, kids activities, food, and refreshments, and it's capped off by South Florida's largest fireworks display over the Intracoastal Waterway.  Attracting approximately 100,000 people, this event will not disappoint!
The Palm Beach International Boat Show, is one of the top five boat shows in the country, featuring more than $1.2 billion in luxury watercraft and accessories.  Vessels are tied along the docks along Flagler Dr., along with a system of barges constructed specifically for the event.  Whether you're in the market for a custom yacht, or you're happy just admiring "how the other half lives," this is an event not to be missed.  The floating party barge is reason enough to attend!
West Palm Beach Destinations
The Square is a premier destination in West Palm Beach, offering a mix of national stores, specialty shops, restaurants, and entertainment venues.  This mixed use development features private residences, commercial office space, restaurants, and the historic Harriett Himmel Theater for Cultural & Performing Arts. Visit at night to get a show from The Wishing Tree. The futuristic tree is composed of 640 LED twigs, 10,000 LED leaves, and 100,000 LEDs.
"The Square is a dynamic experiential neighborhood re-imagining contemporary lifestyle as a destination for retail, cuisine, design, world-class art and mixed-use space."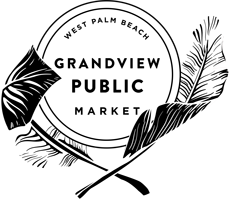 Grandview Public Market - A reformed loading dock slash warehouse space in the Warehouse District just outside of downtown West Palm Beach, GPM is a fantastic food destination for locals and tourists alike. The food hall space boasts twelve chef-inspired vendors, and a bar, so there is literally something for everyone to enjoy. Guests can enjoy an all-in-one experience seven days a week—breakfast, lunch, and dinner.
Perhaps you're not the event type, that's OK! Downtown West Palm Beach and the surrounding areas provide endless activities and experiences.  Here are some of local West Palm Beach attractions that may be more suited to your tastes
West Palm Beach Attractions
Flagler Museum
Historical Society of Palm Beach County
Kravis Center
Palm Beach Zoo
Segway Tours
South Florida Science Museum
Visit Palm Beach
Norton Museum
Lion Country Safari
Rapids Waterpark
Ballpark of the Palm Beaches
TriRail
BrightBike Bike Rentals